National Disaster Preparedness Month: Be Prepared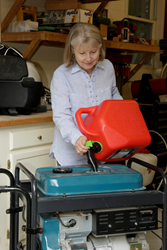 Having filled fuel containers safely ready for an emergency can help power generators and lanterns.
MIAMI, Okla. (PRWEB)
September 05, 2019
Following the theme of "Prepared, Not Scared," the Federal Emergency Management Agency (FEMA) has designated September as National Preparedness Month. With parts of the East Coast still under threat from Hurricane Dorian, and increased storm activity currently in the Atlantic Ocean, this specially-designated month serves as a time when families and businesses should take steps to plan for emergencies, natural disasters and extreme weather situations.
"Being prepared for any unfortunate situation can save valuable time and resources when an actual emergency occurs," says Daniel Marshall, vice president of marketing and business development with Scepter. "From a homeowners' perspective, one of the worst situations that can occur is losing power during a storm or widespread outage.
"Having filled fuel containers safely ready for an emergency can help power generators and lanterns. And, if chain saws or other tools are needed to remove debris after a storm, it's important to have fuel ready to power that equipment."
Marshall recommends homeowners take time during National Preparedness Month to make sure their fuel containers are in good shape and filled. Fuel stored for more than six months should be safely discarded, because its components can deteriorate.
For those homeowners needing new or additional containers, investing in easy-to-use ScepterTM SmartControlTM fuel containers is a smart move. Available in one-, two- and five-gallon gas, kerosene and diesel sizes, the durable SmartControl containers can be filled and safely stored in garages and sheds.
Safety First: Selecting a Smart Fuel Container
The innovative spout design of SmartControl makes it easier than ever to fuel equipment. The spout provides a clean, fast, and hassle-free pour and helps save gas for where it's needed by eliminating messy spills. The user-controlled flow valve with its flame mitigation device (FMD) makes it effortless and safe to direct the amount of fuel being dispensed. And, because the container stores with the spout on, hands always stay clean.
With a single motion, the user simply presses the lever up to unlock the child safety feature with the palm of the hand, and then squeezes the large button. This first squeeze is done when upright to vent the container. Then, place the nozzle over the tank and squeeze again to pour just the right amount of fuel.
"When preparing for a disaster it's important to educate children on what they should and should not do in an emergency," says Marshall. "For safety sake, children should never be allowed to help fuel generators or equipment — and they should be taught this from an early age.
"While children may wish to help, pouring or being near fuel is not appropriate. That's a key reason why we added the child safety feature to the SmartControl container… to prevent young hands from operating our fuel containers."
Tips for planning for a variety of situations from extreme heat to hurricanes to storm surge can be found at https://www.ready.gov/.
Recognized by This Old House magazine as a "Top 20 Best New Product of 2019" in the Lawn & Garden category, SmartControl containers are also the recipient of the "Best in Class" Award at the 2018 National Hardware Show. Constructed in the U.S.A. of durable and safe high-density polyethylene, SmartControl containers can be found throughout the U.S. in The Home Depot®, Walmart®, Lowe's®, AutoZone®, Pep Boys, Target and Northern® Tool + Equipment stores. Visit http://www.scepter.com for more information.
NOTE: Media interested in reviewing the SmartControl gas container should contact Kathy Ziprik at ZiprikPR(at)gmail(dot)com.
Share article on social media or email:
Published at Thu, 05 Sep 2019 00:00:00 +0000